Another Crazy Saturday!!!
20:35
Vengo regresando de otro sabado bastante ajetreado en mi vida a la 1:07 A.M. En mi vida actual siempre llego mucho mas temprano a mi casa xD. Los dias de chica fiestera han quedado atras pero... siempre me gusta volver. Aunque sea por un instante. Temprano estuve en casa, limpiando, programando entradas del blog, jugando Pokemon, comiendo paella y preparando mi coordinado para la Posada Lolita. Pero en la tarde-noche las cosas se pusieron mucho mejor xD
I just came home at 1:07 A.M. In my present life I actually get home much earlier xD. Those Wild Party Girl days are gone... but you I really like it when I go back. Even if it's just for a brief period. Today I was home, cleaning, organizing blog entries, playing Pokemon, eating paella and preparing my coord for my Local Lolita Communitiy's Christmas Party. Nearly at dusk shit got real xD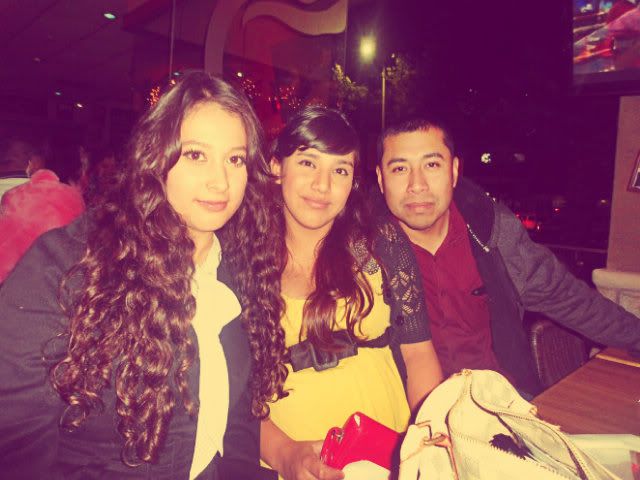 Moi avec Luna et Alonso.
Fui a Applebee's a celebrar de manera improvisada la despedida de soltera de una amiga. Realmente no puedo creer que se vaya a casar. Yo le hice su tocado para la ceremonia religiosa. He quedado muy conforme con el resultado.
I went to Applebee's to celebrate in a very improvised way, a friend's bachelorette party. I really can't believe she's getting married. I made her hair accessory for the religious ceremony. I am proud of myself.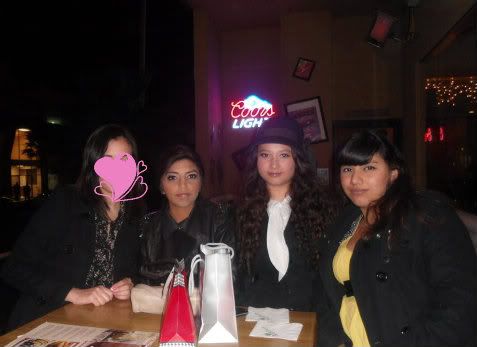 Personas puntuales / People who did arrive on time.
Luna, su novio y yo llegamos super temprano. Fuimos a dar la vuelta por el centro comercial y yo termine comprandome un pequeño auto-regalo de navidad. Escribire sobre eso en mi entrada de Haul de Cumpleaños + Navidad en unos dias.
Luna, her boyfriend and I arrived super early. So we went to do some window shopping in the mall and I got a small Chrismast present for myself. I will be posting about that in the B-day + Christmas Haul entry I will do in a couple of days.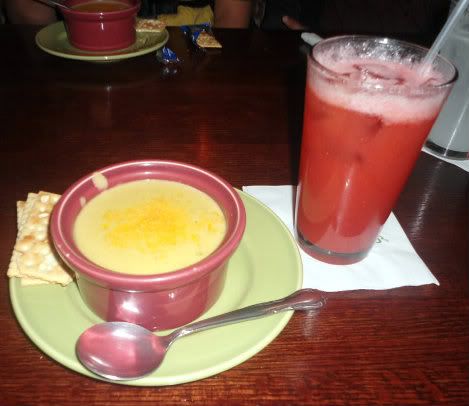 Sopa de Brocolli + Limonada de fresa
Brocolli Soup + Strawberry Lemonade.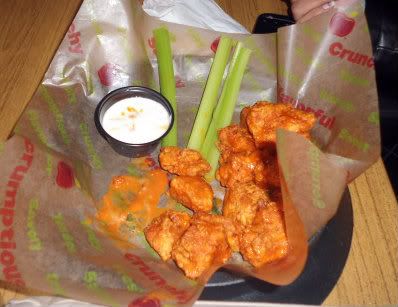 Alitas / BBQ Wings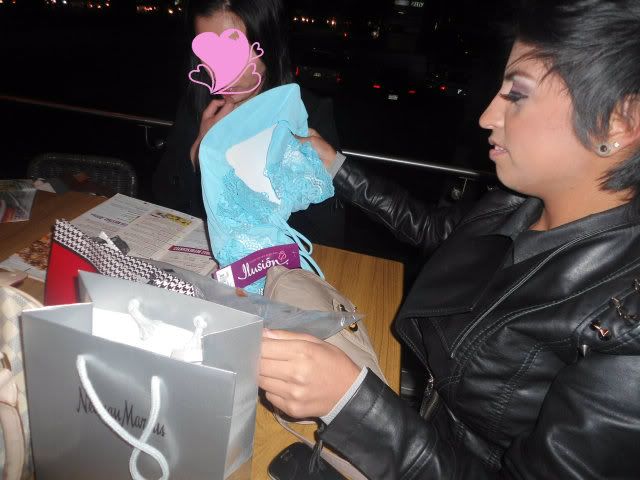 Los regalos de Marlene / The gifts Marlene got
El servicio estuvo del ASCO. Creo que no voy a regresar.
Service was SHITTY. I think I won't go back to that Applebee's.
Homemade Hamburgers at midnight!
Saliendo de alli me fui a casa del novio de mi hermana para asistir a una mini fiesta con algunos amigos de el. Comieron hamburguesas y cerveza. A mi me ofrecieron cuando llegue. Aunque estaba buena la comida me toco un poco fria T__T Nadie quiso tomarse fotos conmigo U_____U asi que no hay fotos xD
After that I went to a mini party at my sister's boyfriend's place. They had beers and hamburgers. I got some when I got there, but it was a bit cold T___T Nobody wanted to take pictures with me U____U so there are no pictures xD