Nunca he sido muy de Posadas y esas cosas. Generalmente asisto a la fiesta familiar el mero día de Noche Buena y a las celebraciones de la universidad. Desde que me convertí en lolita, cada año asisto a la posada de la comunidad local. Hoy tuvimos nuestra posada en un pequeño restaurante en el centro de la ciudad en compañía de dos lindas lolitas de San Diego.
I've never been the type of person to go to a lot of Chrismas Parties and such. I just go to the family party in Christmas Eve and my school's party. Ever since I became a lolita every year I attend my local community's party. Today we had our gathering in a small restaurant in downtown with two lovely ladies from the San Diego community.
San Diego grils!
La comida estuvo deliciosa. Nuestra cena consistía de ensalada, panes, pavo acompañado de puré de papas, bebida no alcohólica, pastel, café (para quienes lo consumen) y Martinellis para brindar.
The food was delicious. Our course included salad, biscuits, trukey and mashed potatoes, non-alcoholic drink, cake, coffee (for people who liked it) and Martinellis to toast.
Durante las actividades / During the activities.
A lo largo de la fiesta hubo varias actividades muy divertidas. Paulina realmente se esforzó muchísimo en cuidar cada detalle. La posada fue todo un éxito gracias a su planeación. Creo que la mejor actividad fue en la que escribimos pensamientos positivos para las demás en una hoja.
During the party we had a lot fun activities. Paulina put a lot of effort in organizing the meet up. She was really careful about the small details. I think it was a very successful evening! I think the best activity was the one were we all wrote positive things for other lolitas in a piece of paper.
Concentrados / Concentrating!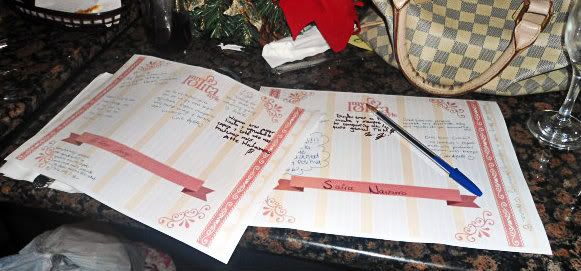 Escribiamos en estas hojas / We wrote on this pretty paper.
Rifaron cositas. Yo me gané unas muñequeras hechas a mano. Nunca gano nada xD Tambien Fer nos trajo bolsitas de dulces.
We had a raffle. I won a pair of handmade wristcuffs! I never win anything xD Plus Fer got us candy bags.
Paulina y su pintura / Paulina and her painting.
Realicé un intercambio con una amiga. Más de eso en la entrada del Haul de Cumpleaños + Navidad.
I trated something with a friend. More on that in my B-day + Chrismas Haul post.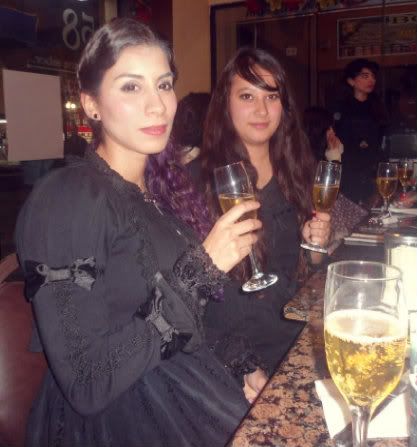 Cuando nos sirvieron las copas para el brindis Paulina dijo unas palabras. Yo también hablé un poco. Regularmente me la paso haciendo relajo con mis amigas... pero ahora si quise adoptar actitud seria xD
When we got our drinks for the toast Paulina said a few words. I also said a couple things. Most of the time I am just being loud with my friends... but today I wanted to be a little serious xD
Picture time!
Over the Knee Socks: Baby
Ankle Socks: Angelic Pretty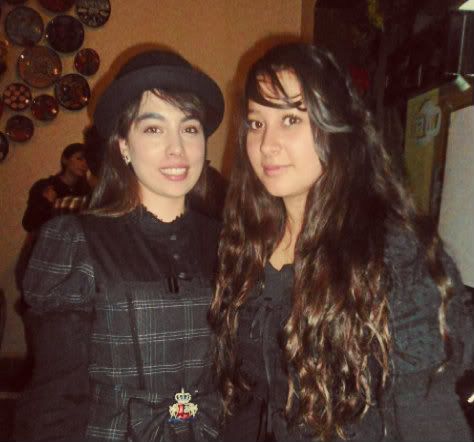 Moi + Nora + Steps!
Karla x 2 xD
Random!
Nora + Moi, encore!
¿Cómo celebran Navidad en sus comunidades?
How do you celebrate Chrismas in you community?